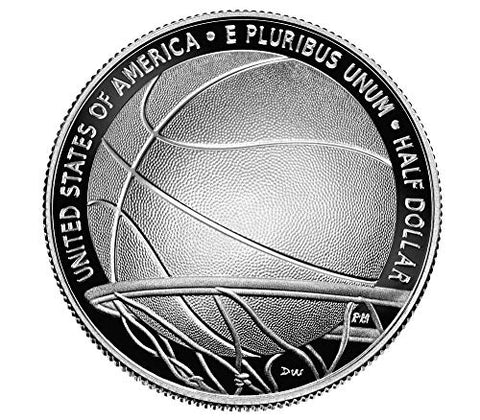 2020 S Basketball Hall of Fame Proof Half Dollar Mint Packaged
(1) Curved half dollar proof coin with certificate of authenticity and mint packaging

Celebrate the game and the 60th anniversary of the Naismith Memorial Basketball Hall of Fame with the purchase of a Basketball Hall of Fame Proof Half Dollar Coin for your own collection, a special player, or dedicated fan.

Obverse: The design portrays the intense, hands-on action of the game-the constant struggle for possession of the ball and the skill required to overcome the opponent and put the ball through the hoop. The design features three different figures all reaching for the ball in unison, suggesting how the sport has brought together millions of diverse people around the world through a simple, universal, and unifying athletic experience. Their arms are intentionally elongated, just slightly, to emphasize the full exertion of physical and mental effort required to excel in the game. The rim and net are presented as subtle background elements to complement the primary figures.

Reverse: This design depicts a basketball about to pass through a net.