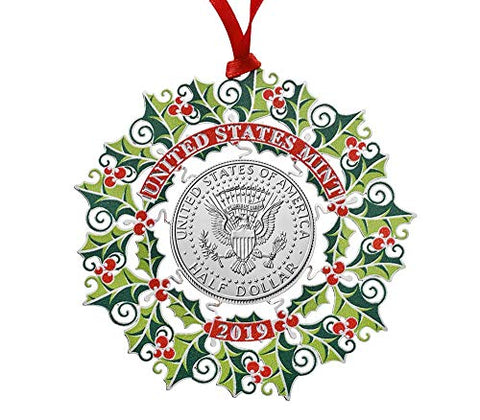 2019 P Ornament Half Dollar Uncirculated US Mint
The stunning, eye-catching 2019 United States Mint Ornament features a traditional green, red, and silver toned wreath encircling a Kennedy Uncirculated Half Dollar. The reverse (tails) of the half dollar appears on the front of the ornament, along with "UNITED STATES MINT" and "2019." The official United States Mint Seal is engraved on the back. The obverse (heads) side of the half dollar is not visible.

The wreath's two-toned green leaves and deep red berries—accented by etched silver-toned highlights—all come together exquisitely to capture the spirit and joy of the season. Produced in solid brass, this one-of-a-kind decoration has an imitation rhodium finish. A red ribbon is attached to the top of the ornament for easy display. Beautifully hand-crafted, it is made entirely in the U.S.A.

This ornament—a decorative blend of sentiment and craftsmanship— includes a separate Certificate of Authenticity with information about the ornament and coin, as well as the signature of United States Mint Director, David J. Ryder.

Make this specially-designed keepsake a new part of your gift-giving and other holiday traditions!